OSCARS 100 HUT 2 HUT
*click on the boxed frame, top right icon on map to enlarge to full screen view with options in Google Maps.
These Hut2Hut course downloads are for course approximation and research purposes. They do show the true route but the elevation data on the GPX is incorrect as the data consists of several tracks edited, a process that has corrupted the true elevation values with some drop out.
The GPX can, however, be used to navigate on a GPX / GPS compatible unit.
*use at your own risk.
More mapping and navigation information found on the NAVIGATION page.
Click on the ELEVATION chart below for elevation map.

FRIDAY 16th
SUNRISE 6.52am // SUNSET 8.16pm  
RACE START: 5am
CUT OFF (LAY OVER): LOVICKS HUT (37.5km) 2pm (9 hours)
CUT OFF (LAY OVER): KINGS VALLEY HUT (71.5km) 9pm (16 hours)
SATURDAY 17th
SUNRISE 6.53am // SUNSET 8.15pm
SET OFF LOVICKS HUT: 5.00am
CUT OFF (LAY OVER): KINGS VALLEY HUT (71.5km) 6pm (37 hours)
SUNDAY 19th
SUNRISE 6.54am //SUNSET 8.14pm
SET OFF KING VALLEY HUT 5.00am
CUT OFF (FINISH): 12.00pm

NOTES RE: 'slowest' pace:
Those looking at slower rates of trekking still need to maintain a certain speed.  It's not a matter of missing cut off for a DNF, it's whether or not you are forced to sleep at a layover (and thus extend your time on course). If you are on a 'slowest' timeline it may look something like:
Buller-Lovicks after 2.00pm – >9 hours on trail for 37km + <9 hours forced layover

Lovicks-King Valley after 6pm - >13 hours on trail for 21.5km + <13 hours forced layover

King Valley–Buller - <7hours on trail for 28.5km

= 55.5 hour total to make 12 noon cut-off.
NOTES RE: 'run' pace:
There is one golden rule for run pace competitors – you need to reach King Valley Hut on the Friday BEFORE 9pm – 16 hours after race start. Anyone reaching King Valley after this time is automatically reduced to '2 Day Multi Stage' class and forced to stay overnight at King Valley.
SOLO RUNNER CHECKPOINT CUT OFF TIMES - you must be out of the checkpoint by this time
Lovicks Hut - 37km - 2.00pm Friday 16th
AAWT Turn off - 40.5km - 3.oopm Friday 16th
Gantners Hut - 50km - 5.00pm Friday 16th
Mt Speculation - 59km - 7.00pm Friday 16th
Kings Hut - 73km - 9.00pm Friday 16th
Craig Hut - 78km - 10.oopm Friday 16th
Mt Stirling - 83km - 11.00pm Friday 16th
Howqua Hut - 86km - 12.00am Saturday 16th
Mt Buller Finish Line - 3.00am Saturday 16th
Detailed course description
Beautiful she may be, the Hut 2 Hut course is, quite simply, a bit of a brute. Over 100km various GPS units will come up with different results, but our instruments recorded in the vicinity of 5700 metres of gain.  Ten peaks will be bagged. Not big by world standards – indeed Buller itself is the highest at 1805m – but try knocking off ten of them in a row, with plenty of diving down to the valley floor before climbing back up and you will know you've worked hard. Here's the playbook*:
 *click on the map images to view larger versions.
LEG 1: VILLAGE START – MT BULLER
Runners and trekkers begin at the Buller Resort Village (which will also be the finish). From the central courtyard, it's a dash up the guts of Athlete's Walk, past the supermarket and accommodation buildings and Abom, hitting the main road. Follow that until you hit Arlberg Hotel on your left. Opposite on the right is a car park and a small wooden arch. Follow the trail that leads under that (Summit Nature Walk trail). It takes you to near the Northside Discovery Centre, where you will veer left across a road and onto singletrack past Burnt Hut Reservoir, eventually leading you to the base of the Buller Summit. Look up – and step up. It's an out and back to the Summit proper (approx. 300 metres).
Leg distance: 2.5km
Leg Ascent: 224m
Leg Descent:  5m
Cumulative distance: 2.5km
Cumulative  Ascent: 224m
Cumulative Descent:  5m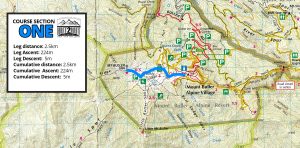 ---
LEG 2: MT BULLER – EIGHT MILE
From the summit of Mt Buller, it's a bomb back down, swinging to the right, hooking up with a dirt road, which drops you down to a bend. Don't hug the road, which sweeps left. Leave it. Yep, on that corner you're turning right, going down into the bush. Follow the ribbons into it, scrambling down some super rocky and technical terrain as you make your way down Four Mile, a ridge that will lead you 8km and 1300+- vertical metres down to the Howqua River. Be careful in the first section, it's easy to get off track – which is not well defined – and suddenly find yourself sliding off the ridge. There are big rocky sections early on – hard to run if you're trying to. We won't lie - this is perhaps the trickiest section of bush as it's tight, scratchy, and not an obvious trail. The trail gets more defined the further down you go (after 4km), weaving in and out of tee tree stands higher up, getting tight in some patches. There is a magnificent viewpoint early on where you scramble atop a rocky outcrop. After that it's back into the bush and down, down, down, the trail getting much more trottable as you get nearer the river. Watch your footing – there is a lot of ground scrub and fallen debris / sticks, so it is easy to trip. You'll pop out at the river – cross over and pick up the trail (dart in to see Gardiners' Hut (private) to the left if you like, but the challenge trail hooks to the right just before the hut clearing and leads up to where you will find an Aid Station). After the Aid Station, follow the singletrack sidling east along the river for 3.5km before popping up and out onto the gravel road that is Brocks Road. Follow Brocks for 1.8km, until you see a turn off left to Seven Mile Creek/Flat. Turn down towards the river and follow the road/path until you pick up some singletrack at the back of the camp area (you are heading east). The singletrack will lead you to emerge at a bend in the access road to Eight Mile Flat. Continue on ahead, making your way to the Eight Mile Flat camp ground and first major aid station.
Leg distance: 16km
Leg Ascent: 388m
Leg Descent: 1599m
Cumulative distance: 18.5km
Cumulative Ascent: 610m
Cumulative Descent: 1602m
---
LEG 3: EIGHT MILE – REFRIGERATOR GAP
At the Eight Mile Checkpoint, get your huff'n'puff on as you have a 5km section rising a whopping 850m vertical metres. Be sure to spin around every so often to take in the views back to Mt Buller. Nearing the top you will swing east onto Rocky Ridge, a beautiful pasture of knarled gums and great views across to the Bluff (deep breath, you climb that soon). Follow the trail that soon swings right meeting with Bluff Link Road.
Leg distance: 6.6km
Leg Ascent: 877m
Leg Descent: 215m
Cumulative distance: 25.1km
Cumulative Ascent: 1488m
Cumulative Descent: 1817m
LEG FOUR: REFRIGERATOR GAP – BLUFF HUT
A marshal at Refrigerator Gap will keep you on track – which is to head directly up the road (south east) for 900 metres before turning off (veer right as the road veers left) onto Bluff Walking Track. Suck it up – you now have a pinchy 1.5km/400 metre vertical ascent to the top of the Bluff (1725m). From here it is another 4.5km to Bluff Hut, where you will meet the 4WD Bluff Track and a small aid station.
Leg distance: 6.6km
Leg Ascent: 562m
Leg Descent: 305m
Cumulative distance: 31.7m
Cumulative Ascent: 2049m
Cumulative Descent: 2122m
---
LEG FIVE: BLUFF HUT – LOVICKS HUT
A relatively straightforward section, following (4WD) Bluff Track over Mt Lovick (1684m) and on to Lovicks Hut, a major aid station. Note that about 4.8km from Bluff Hut there is a singletrack veering off to the left, which shortcuts the road, leading to Lovicks Hut. Take this trail – it is the official course route! (why stay on road when there's singletrack?).
NOTE: any participant who reaches Lovicks Hut after 3pm will be required to sleep over and must have made prior arrangements to do so (i.e. carrying sleeping bag and mat, and forwarded tent.)
Leg distance: 5.8km
Leg Ascent: 217m
Leg Descent: 244m
Cumulative distance: 37.5km
Cumulative Ascent: 2266m
Cumulative Descent: 2366m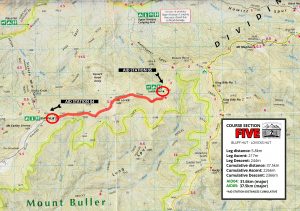 ---
LEG SIX: LOVICKS HUT – AAWT – GANTNER HUT
From the refresher of Lovicks, it's a little further on the 4WD track – check a few of the viewpoints along this stretch – they are special and take in pretty much all of the huge loop you are trying to get around, all the way back to Buller, which on a clear day you will spy! Approximately 3km along Bluff track, you will come to a turnoff onto the Australian Alpine Walking Track. It's not massively signed usually, although we'll have plenty of event signage there and a marshal (all being well, but still, stay alert!). Take this trail left off the 4WD track and get ready for potentially the best trail walking / running to be found in the State! Ahead is a series of peaks to be bagged and the famous 'Crosscut Saw' to be traversed. First up, it's Mt Magdala (1725m), on past Hells Window and up Big Hill (1668m). The rollercoaster continues, with Mt Howitt next up (1742m). Keep on the trail heading north east (do NOT take the trail that head back to West Peak and down Howitt Spur!). From Howitt it's a singletrack sweep to the turn-off to Vellejo Gantner Hut. NOTE: It is MANDATORY for all participants to take the out and back to Gantner, which is a check-in station only, with only emergency supplies offered. 
Leg distance: 12.5km
Leg Ascent: 898m
Leg Descent: 718m
Cumulative distance: 50km
Cumulative Ascent: 3159m
Cumulative Descent: 3161m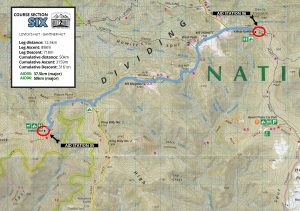 ---
LEG SEVEN : GANTNER HUT – MT SPECULATION CAR PARK
From Gantner, it's back out to the main AAWT trail and a right hand turn north up into the Viking Wilderness Area and the jaw dropping Crosscut Saw, a high, thin-wedge ridgeline that will have you hollering and whooping. Simply awesome. From Gantner, it's 8.5km along the ridge, bagging Mt Buggery (1608m), via Horrible Gap to eventually climb up Mt Speculation (1666m). Not more than 500 metres after the summit, you will turn off the AAWT, taking the trail left for another 500  or so metres to hit Mt Speculation Campsite and a small aid station.
Leg distance: 9.1km
Leg Ascent: 706m
Leg Descent: 803m
Cumulative distance: 59.2km
Cumulative Ascent: 3865m
Cumulative Descent: 3967m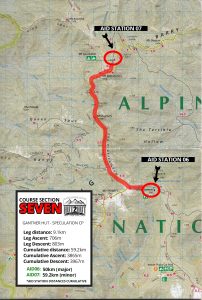 ---
LEG EIGHT : MT SPECULATION ROAD CAR PARK – KING VALLEY HUT
You've worked hard, time to hit cruise control. From the Speculation campsite / aid station, follow the Speculation Road which traverses Mustering Flat (can you hear the echoes of the pioneering horsemen!). Run/trek for 7.6km from the campsite before looking for the left hand turn, off the road and down Muesli Spur Track. It's about to get fun and fast! This singletrack drops nearly 600 metres in 3.5km! Up top it's definitely scramble territory but down lower it's zoom, zoom, zoom. At the bottom it's another kilometre in to the major aid station at King Valley Hut. NOTE: should you reach King Valley Hut anytime AFTER 8pm on Friday or 6pm Saturday, you will be forced to stay here the night. You will be allowed t o leave again at 5am. SUNRISE 6.53am. For RUNNERS, this means you need to have run 71.5km in no more than 13 hours. For trekkers – well, enjoy the campfire.
Leg distance: 12.3km
Leg Ascent: 67m
Leg Descent: 630m
Cumulative distance: 71.5km
Cumulative Ascent: 3933m
Cumulative Descent: 4597m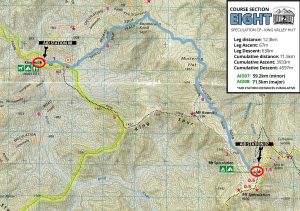 ---
LEG NINE: KING VALLEY HUT – CRAIG'S HUT
From King Valley, you may feel like you're on the home stretch with 28.5km to go. Don't relax, there's some hard yards still to be done. Out of King Valley Hut (you need to run into the campsite, check in, before running back out), you will take an old 4WD trail after a small river crossing., and bang! Into a big climb. Feeling those calves yet? The 4WD track (nameless) will climb up towards Peters Corner. But before you hit the main road, veer off to the right, up into a singletrack. This cuts off some of Circuit Road (take the singletrack, trust us!). Hitting Circuit Road (fairly groomed 2WD road), turn right and follow until the turn off to Craig's Hut. Climb up Clear Hills Track for about 1.5km before veering off right on a singletrack – another shortcut that pops you out in front of Craig's Hut, as made famous in The Man From Snowy River. Interesting fact: it's a great hut but indeed is a re-creation of a fake! Craig's Hut was only first built as a set for the movie. It then became a tourist attraction, before burning down and being rebuilt.
Leg distance: 6.6km
Leg Ascent: 736m
Leg Descent: 80m
Cumulative distance: 78.1km
Cumulative Ascent: 4668m
Cumulative Descent: 4678m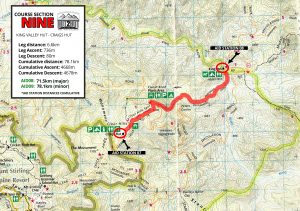 ---
LEG TEN: CRAIG'S HUT – MT STIRLING
Having savoured the faux (but representative) history of Craig's Hut, it's time to keep moving. Head to the car park off to the south west and take the 4WD trail that is Clear Hills Track. It's a stunning track with some beefy climbs that will lead you all the way to the exposed Mt Stirling. As you pop out onto Stirling flanks keep on the main dirt road sweeping around south – don't head towards Geelong Grammar School Hut (unless in an emergency). At Mt Stirling (1749m) you are required (for the fun of it) to head up to the summit – a short 180m trek up – and back before continuing your journey.
Leg distance: 5km
Leg Ascent: 462m
Leg Descent: 149m
Cumulative distance: 83.1km
Cumulative Ascent: 5127m
Cumulative Descent: 4845m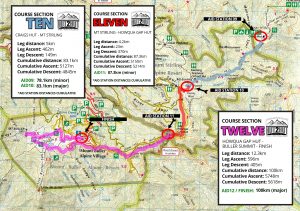 LEG ELEVEN: MT STIRLING – HOWQUA GAP HUT
Coming off Mt Stirling, keep to the Howqua Gap 4WD track that sweeps around to your left. Follow it on an undulating 4WD trail that starts to descend, eventually sweeping back right and dropping sharply! Here there is a bunch of switchbacks and wash out mounds. Uncomfortable trekking or walking, as it is steep, especially given you've got more than 80km in the legs! The 4WD trail weaves down towards your next (and final) hut: Howqua Gap Hut, where you pop out.
Leg distance: 4.2km
Leg Ascent: 23m
Leg Descent: 370m
Cumulative distance: 87.3km
Cumulative Ascent: 5150m
Cumulative Descent: 5214m
LEG TWELVE: HOWQUA GAP HUT – MT BULLER – VILLAGE FINISH
Nearly home you can feel it. But as you'd expect there's a small tsk yet, in a gradual climb up Wooly Butt Spur to Corn Hill (1630m). Note that you are now following a MTB track called 'Trigger Happy', followed by Medusa, and then 'Clancy's Run'. Do NOT go down or follow 'Misty Twisty' (unless you are looking for extra kilometres!).  Now, as we get closer to the Buller resort, it's important to get your thinking and navigation cap on as there will be more trails criss-crossing to confuse you!
Calncy's Run will take you down and eventually cross you over Corn Hill Road. Keep heading down and to the left picking up Wombat Trail. This will lead you down into a small skills section of the MTB trail, before spitting you out, back over Corn Hill Road, and into another small skills section. The trail will lead you on up a small gradient along Split Rock Trail. Keep sidling to the left, don't take any of the trails coming in at you from the right. Split Rock switchbacks up to join Family Trail, a flat, wide trail. Turn left and travel along, noticing the Buller Village just above you. Indeed the finishline is within cooee here but first you have one last trying task to complete – a return to the Summit from whence you came! (It's all about laying down some tradition and 'completing the circle). So keep running along Family, until you are directed up what looks like a steep ski run (Because that's what it is). Follow signage until you pick up the southern section of the Summit Nature Walk. This leads to the car park at the bottom of Buller Summit. Up you go. Collect your medal (we have to get you to prove you've been up there somehow!), and then head back down, this time veering left (north) along Summit Nature Trail, which is following your footsteps from when you came up here last at the start of the challenge. Back past Northside Discovery Centre, back to the Arlberg (don't stop for a beer just yet), down the road to pick up Athletes Walk and the chute down into the Village Square and the FINISH!
Leg distance: 12.3km
Leg Ascent: 596m
Leg Descent: 405m
Cumulative distance: 100km
Cumulative Ascent: 5748m
Cumulative Descent: 5618m
*A NOTE ON DISTANCE / ASCENT / DESCENT:
The distance / ascent / descent statistics have been gathered from two course recce runs (full loops), using measurement instruments inclusive of Garmin handheld, Garmin Fenix 3 wrist unit and Suunto Ambit2/3 units. Data was collated and sections judged most accurate from each chosen and integrated into an 'edited course' using Garmin Basecamp. There will be some inconsistenvies over any 100km course. All distances and ascent/descents are listed as indicative only.
Play by Play Course: Buller Village > Buller Summit (1805m) > Four Mile > Eight Mile > Refrigerator Gap > The Bluff  (1725m) > Bluff Hut > Mt Lovick (1648m) > Lovicks Hut > AAWT turn off > Mt Magdala (1725m) > Hells Window > Big Hill (1668m) > Mt Howitt (1742m) > Gantner Hut  (out and back) > Viking Wilderness/ Crosscut Saw (1706m) > Mt Buggery (1608) > Horrible Gap > Mt Speculation (1666m) > Muesli Spur > King Valley Hut > Craigs Hut > Mt Stirling (1749m) > Bluff Spur Hut > Stonefly > Howqua Gap Hut > Mt Buller Summit (1805m) > Buller Village finish.
Checkpoints (all distances approx - different devices will give different readings by up to 500m-1km+ the further you get into the course):
5km > Four Mile Creek (minor – some AID)

18km > Eight Mile Flat (major – AID, FA)

25km > Refrigerator Gap (major – AID, FA)

32km > Bluff Hut (major)

5km > Lovicks Hut (major CUT OFF #1 > 3.00pm day 1 – AID, FA)

Turn off to AAWT (minor, marshals only, no aid) 40.5km

Turn off to Gantner Hut 49km (minor, marshals only)

50km > Gantner Hut (minor, AID, FA)

59km > Mt Speculation Car Park (major - AID)

5km > King Valley Hut (major – CUT OFF# 8pm day 2, AID, FA)

78km > Craigs Hut (minor, AID)

83km > Mt Stirling summit turn off (minor, marshals only, FA)

5km > Howqua Hut (major, AID)

5km > Buller Summit (marshal)

100km > Finish – Buller Village Square (major, AID, FA)
COMPETITOR EXPECTED PACE & TIMINGS –

OSCARS 100 HUT2HUT
As the event has not been run before, it is hard to gauge exactly how fast or slow teams will be. Here's what we think will happen, and can be used as a rough comparison to guide your own expectations. In general, people will be a touch slower than they think - it's a tough course. As a guide, Ultra Trail Australia's current race record is just under 9 hours. We expect that this course will take the running solo winner at least 12 if not longer. Until we're proven wrong, of course. Use the below to gauge your own expectations. 
Are you a running team or solo? 
Timings based on first runner @ 8km/hr average pace fastest (wow!) and slowest at 3km/hr average.

Required approximate minimum moving pace for solo runner (average pace 5km per hour or 12min/km):
 > arrives at Lovicks post 8.30am Friday (3.5 hour+ total time 37.5km)
> arrives at Kings post 11.30am Friday (6.5 hours total time for 71.5km)
> arrives Buller 3pm (10 hours total time for 100km). We think this will be more like 5pm / 12 hours
Are you a trekking team?

Average moving trek participant / one sleep over (average pace 4.7km/hour or 12.8min/km):
 > arrives at Lovicks 1pm Friday (8 hour total moving time for 37.5km)
> arrives at Kings post 8pm Saturday (7 hours total moving time for 34km) SLEEP OVER <9 hours
> leaves Kings 5-6am Sunday
> Arrives Buller prior 12 noon cut off (7 hours moving time for 28km)
Slowest moving trek participant (average pace 3.8km/hour or 15 min/km):
 > arrives at Lovicks post 3pm Friday (10 hour moving time for 37.5km) REST/SLEEP OVER <14 hours
> leaves Lovicks 5-6am Sat
> arrives at Kings post 8pm Saturday (15 hours moving time for 34km) 
SLEEP OVER <9 hours
> leaves Kings 5-6am Sunday
> Arrives Buller prior 12 noon cut off (7 hours moving time for 28km)
Slowest moving competitor:  32 hours moving time + 13hrs rest Lovicks + 9hrs rest Kings = 54 hours total on course (cut off = 55 hours)

NOTES RE: runners: 
There is one golden rule for run pace competitors – you need to reach King Valley Hut on the Friday BEFORE 9pm – 16 hours after race start. Anyone reaching King Valley after this time is automatically reduced to 'trekking' class and it will be mandatory (no exceptions) to stay overnight at King Valley. Hey, it's better than a DNF! At least you get to continue and finish the entire course the next day! If you nominated your team as a running team and therefore have not carried sleeping bag and mat, you will supplied with emergency lay over gear only at Kings. Don't expect a comfy night's sleep, unlike the trekking class, who will have pre-planned with adequate own-gear.
NOTES RE: trekkers:

You will need to nominate where you expect to sleep over - be that Lovicks and King Valley or just Lovicks. Use the timings above to judge what your approach is, and have a plan! You are either planning on doing the course in up to two days (one sleep over - King Valley) or two and a half days (two sleep overs - Lovicks, then King Valley). It is important you are realistic about making the judgement and devising your trek plan as our logistics revolve around it! 
NOTES RE: trekker sleeping gear logistics:

All trekkers will be required (mandatory) to carry own sleeping bag (lightweight is fine) and sleeping mat. Plan your backpack choice carefully as you need to carry this around the entire course, along with the other mandatory items and water. All competitors also need to supply their own tents, however tents will be tagged and collected prior to the start of the challenge (at the Thursday briefing) and transported to the nominated sleep over stations (so you do not carry your tents). Those sleeping over at Lovicks will then have their tents transported around to King Valley for the second night, also.