Introduction
The Archie seeks to replicate the wild, remote, toughness of Hut 2 Hut while also providing a 'stepping-stone' experience for those seeking a taste of what Hut 2 Hut is all about, and potentially qualifying for the solo 100 category in the following year.  Therefore, the course has been chosen to be arduous and potentially uncomfortable in parts, to replicate the longer course conditions.
It gives introduction to Four Mile – which is also the first technical challenge in the Hut 2 Hut course. There is a significant ratio of ascent to distance (2600m vertical metres to 54km), which replicates Hut 2 Hut in a shorter distance but no less tough a measure. The terrain is technically difficult in sections but watch your feet and you'll be fine.
---
When: Saturday 17 February 2023 (operated as part of Oscars 100 Hut 2 Hut event weekend)
Distance: 52km
Elevation: approx. 2530m
Start: 6.30am
Cut Off: 9.30pm*
*note that there are rolling cut offs throughout the course
Google Map: https://drive.google.com/open?id=16tmpTMjUO8VMJCCma2vTrWChHujrm-ly&usp=sharing
Topo Map: https://www.terrainium.com.au/routeDB/H2H/H2H.html?route=The%20Archie

Avenza Map: https://www.terrainium.com.au/downloads/H2H/Archie-2023-2.1.pdf
A GPX file is also available. Download GPX route here.
Here's the playbook:
Course Order: Buller Village > Buller Summit (1805m) > Four Mile (CP) > Eight Mile (CP) > Pikes Flat (CP) > Howqua Gap Hut (CP) > Mt Buller Summit (1805m) > Buller Village finish.
Checkpoints:
Four Mile (11.2km / 246m ascent / 1387m descent)

Eight Mile (17.6km / 479m ascent / 1587m descent)

Pikes Flat (28.1km / 871m ascent / 1820m descent)

Howqua Gap Hut (41.9km / 1956m ascent / 2223m descent)

Mt Buller Village Finish / (53.3km  / 2530m ascent / 2600m descent)
---
#

 FROM
 TO
LEG
TOTAL
DIST

 ASC

 DESC

DIST

ASC

DESC

    1

Start

Mt Buller Summit Car Park

2.0

              214

                 -  

2.0

              214

                 -  

    2

Mt Buller Summit Car Park

Four  Mile AS

9.2

              102

           1,387

11.2

              316

           1,387

    3

Four Mile AS

Eight Mile AS

6.4

              233

              199

17.6

              549

           1,586

    4

Eight Mile

Pikes Flat

10.5

              392

              234

28

              941

           1,820

5

Pikes Flat

Howqua Gap

13.7

           1,085

              403

41.7

           2,026

           2,223

6

Howqua Gap Hut

Mt Buller Summit

7.8

551

140

49.5

           2,577

           2,363

7

Mt Buller Summit

Finish

2.6

0

214

52

           2,577

           2,577
---
NOTE: The Archie participants DO NOT have to run up to the summit just after the start of the run, but you WILL have to summit on the return to Buller. This cuts off approx. 70m of ascent and 600 metres in distance.
All cut off times will be enforced for the safety of all runners, first aid teams and volunteers.
MAPS
SECTION ONE
VILLAGE START – MT BULLER SUMMIT CAR PARK
Leg distance: 2km
Leg Ascent: 214m
Leg Descent: 0m
Cumulative distance: 2km
Cumulative Ascent: 214m
Cumulative Descent: 0m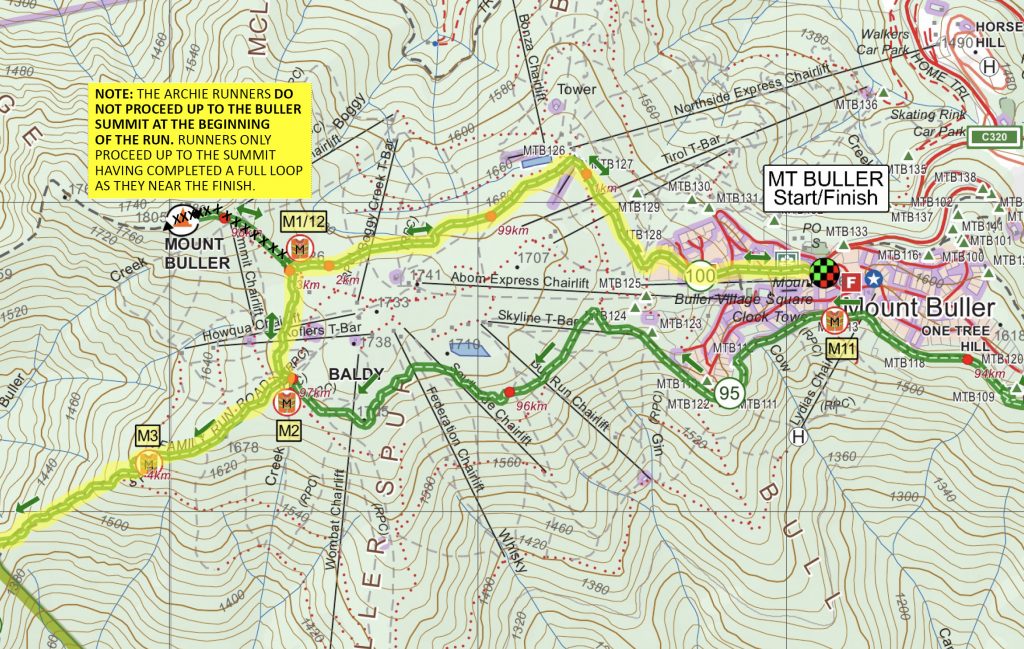 Runners begin at the Buller Resort Village (which will also be the finish).
From the central courtyard, it's a dash up the guts of Athlete's Walk, past the supermarket and accommodation buildings and Abom, hitting the main road. Follow that until you hit Arlberg Hotel on your left.
Opposite is a car park and a small wooden arch. Follow the trail that leads under that (Summit Nature Walk trail). It takes you to near the Northside Discovery Centre, where you will veer left across a road and onto singletrack past Burnt Hut Reservoir, eventually leading you to the base of the Buller Summit.
Look up – and breathe a sigh of relief (for now) – you don't need to summit this early! Instead turn left across the car park and pick up the trail leading south towards Four Mile.
SECTION TWO
MT BULLER SUMMIT CAR PARK – EIGHT MILE
Leg distance: 15.6km
Leg Ascent: 335m
Leg Descent: 1586m
Cumulative distance: 17.6km
Cumulative Ascent: 549m
Cumulative Descent: 1586m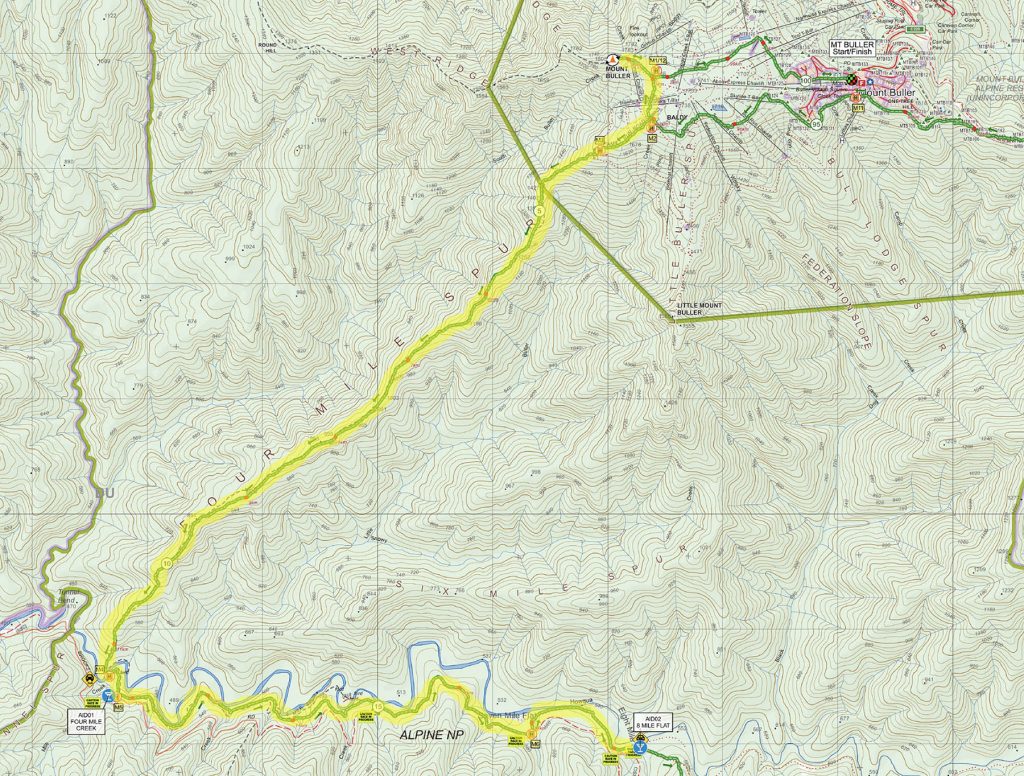 A few hundred metres on singletrack from the Buller Summit Car Park, you will hook up with a dirt road, which drops you down to a bend with a huge netting on it. At the bottom, don't hug the road, which sweeps right. Leave it. Yep, on that corner you're turning left, going down into the bush. Follow the ribbons into it, scrambling down some super rocky and technical terrain as you make your way down Four Mile, a ridge that will lead you 8km and 1300+- vertical meters down to the Howqua River. Be careful in the first section, it's easy to get off track – which is not well defined – and suddenly find yourself sliding off the ridge. There are big rocky sections early on – hard to run if you're trying to. We won't lie - this is a tricky section of bush as it's tight, scratchy, and not always an obvious trail (although much better than it was in Year One!). The trail gets more defined the further down you go (after 4km), weaving in and out of tee tree stands higher up, getting tight in some patches. There is a magnificent viewpoint early on where you scramble atop a rocky outcrop (PLEASE TAKE CARE HERE AND DO NOT OVERTAKE AT THIS POINT).
After that it's back into the bush and down, down, down, the trail getting much more trot-able as you get nearer the river. Watch your footing – there is a lot of ground scrub and fallen debris / sticks, so it is easy to trip. You'll pop out at the river – cross over and pick up the trail (dart in to see Gardiners' Hut (private) to the left if you like), but the race trail hooks to the right just before the hut clearing and leads up to where you will find an Aid Station, make sure you turn right and get checked off at the first checkpoint (MANDATORY) before you head off east on the main trail. YOU MUST HAVE YOUR NUMBER CHECKED OFF HERE
After the Aid Station, follow the single-track sidling east along the river for 3.5km before popping up and out onto the gravel road that is Brocks Road. Follow Brocks for 1.8km (keep an eye and ear out for cars and 4WDs), until you see a turn off left to Seven Mile Creek/Flat. Turn down towards the river and follow the road/path until you pick up some single-track at the back of the camp area (you are heading east). The single-track will lead you to emerge at a bend in the access road to Eight Mile Flat. Continue on ahead, making your way to the Eight Mile Flat camp ground and second aid station. YOU MUST HAVE YOUR NUMBER CHECKED OFF HERE
Cut off time at 4 Mile – 10.30AM for all competitors
Cut off time at 8 Mile – 12.30AM for all competitors
SECTION THREE
EIGHT MILE – PIKES FLAT
Leg distance: 10.5km
Leg Ascent: 392m
Leg Descent: 234m
Cumulative distance: 28km
Cumulative Ascent: 941m
Cumulative Descent: 1820m

At Eight Mile campground you now leave the traditional Hut2Hut course (it heads directly south and very steeply uphill from here! Lucky Archies runners – you get to continue running on east, and only gently uphill / upstream).
The sweeping, singletrack weaves its way for the next ten kilometres, crossing the Howqua River another 13 times! The singletrack is fairly clear, undulating and fun. You will pass Ritchies Hut en route, where there is a toilet if required.
CAUTION: there are NO MARSHALS situated at each river crossing. PLEASE take extreme care and cross with caution. If you are with other participants, please stay close and cross together ensuring everyone gets to the next riverbank safely. Step carefully, noting slippery rocks and surfaces make each crossing potentially hazardous.  PLEASE TAKE CARE!
Approaching Pikes Flat, you will pop out onto Sixteen Mile Jeep Track – turn left and follow along all the way into Pikes Flat Aid Station. YOU MUST HAVE YOUR NUMBER CHECKED OFF HERE
Cut off time at Pikes Flat – 3.30PM for all competitors
A NOTE FOR SUPPORT CREW: we DO NOT encourage support crew to visit Pikes Flat – access is by technical 4WD only, including a river crossing if coming via the east (Bindaree Rd / Bindaree Hut) or a steep and technical 4WD track if coming via Sixteen Mile Jeep Track. Event Management will not be responsible for assisting any recovery should support crew get stuck, as we cannot have event resources that are dedicated to the safety of participants being diverted, and thus endangering event participants.
SECTION FOUR
PIKES FLAT-HOWQUA GAP HUT
Leg distance: 13.7km
Leg Ascent: 1085m
Leg Descent: 403m
Cumulative distance: 41.7km
Cumulative Ascent: 2026m
Cumulative Descent: 2223m
Reaching Pikes Flat, we hope that you have left some steam in the legs because there's a little up section. Okay, a big up section. We'll be honest, this next 14km and 800 metres of climbing is not the prettiest section of the course – it's an old logging road – rather it's a challenge of mind and body as you grind up towards Howqua Gap Hut, taking in several switchbacks before joining Circuit Road, where you turn LEFT. As you climb up the track have a look back and you'll see a great view of The Bluff and when you are sick of climbing just look at The Bluff and remember you don't need to climb that after already climbing 5km uphill from 8 Mile.
PLEASE BE CAREFUL when you finish the Corn Hill Track climb and turn onto Circuit Road  – it is 2WD-accessible and the main thoroughfare to Craig's Hut / King Hut so there will be traffic. Keep to the left-hand road verge and be mindful of vehicles.
HEADPHONES ARE BANNED on this section: it is a disqualifiabletransgression to wear them. This is on account of safety in that we need you to be a be able to hear oncoming traffic.
Follow Circuit Road north uphill until you reach Howqua Gap Hut intersection. Look for the small single-track leading up to your right (east) – this will take you up to the Howqua Gap Huts compound and the aid station.
It is MANDATORY to check in at the aid station.
Cut off time at Howqua Gap Hut – 6.30PM for all competitors
SECTION FIVE
HOWQUA GAP HUT – BULLER SUMMIT – FINISH 
Leg distance: 10.4km
Leg Ascent: 551m
Leg Descent: 354m
Cumulative distance: 52km
Cumulative Ascent: 2577m
Cumulative Descent: 2577m

Nearly home, you can feel it. But first a gradual climb up Woolly Butt Spur towards Corn Hill (1630m). Note that there is a slight course change here – we now follow a central corridor double track that spears up between two mountain bike trails (Trigger Happy and Woolly Butt – both downhill direction trails hence we cannot use them). The doubletrack climbs steeply, before levelling off, dropping slightly and eventually come to an intersection where numerous MTB trails converge: Cornhill, Clancy's Run, Delatite River, Picnic Trail and Wombat. Now, as we get closer to the Buller resort, it's important to get your thinking cap on, use your navigation skills and course marking as there will be more trails criss-crossing to confuse you!
Pick up Wombat Trail down into a small MTB skills section, before spitting you back out onto Corn Hill Road, and into another small skills section. The trail will lead you on up a small gradient along Split Rock Trail. Keep sidling to the left, don't take any of the trails coming in at you from the right. Split Rock switchbacks up to join Family Trail, a flat, wide trail. Turn left and travel along, noticing the Buller Village just above you. Indeed, the finish line is within cooee here but you have one last trying task to complete – the Summit!
Keep running along Family, until you are directed up what looks like a steep ski run (because that's what it is). Follow signage until you pick up the southern section of the Summit Nature Walk. This leads to the car park below Buller Summit. Up you go. Once at the summit, you need to tear a page from designated book for The Archie (we have to get you to prove you've been up there). Retrace your steps to the car park then take the singletrack on the north side (your left coming down). This will poke you past Northside, straight across to a final bit of singletrack leading to the Arlberg Hotel at the top of the Buller Village. Now it's bitumen all the way, picking up Athletes Walk just past the Medical Centre, shimmy between ABOM and the supermarket, before turning right into the Village Square where we greet you with a huge roar.
Cut off time – 9.30PM for all competitors 
**NOTE: should a runner meet the cut off at Howqua Gap Hut but then fall behind cut off pace as they reach the section of the course that passes nearby the finish line (albeit still with 4.5km to go), event management reserves the right to 'shortcut' competitors directly to the finishline. A DNF will be recorded. Please do not contest any such decision/s noting that they are made for the safety not only of competitors but also our volunteer and event staff who require rest from long shifts over the course of the weekend. While we appreciate that any such occurance will be disappointing for the participant, we also call for and appreciated your understanding.**