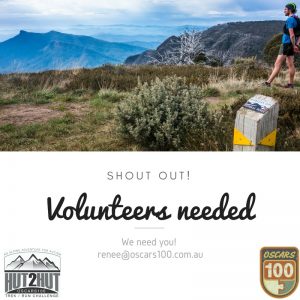 Volunteering at The Hut 2 Hut
This event is only possible thanks to the army of volunteers who all kindly donate their time so we can make a difference.
Below are just some of the roles we need to fill with an awesome volunteers (or 10).
Should you be interested in any of these sweet, sweet roles all you need to do is click on this Volunteer Expression of Interest Form, fill in the form and send it Renee@oscars100.com.au.
Registration Royalty:
This role is one of the fist experiences competitors will have at The Hut 2 Hut event so its also one of the most important. Here you will welcome competitors, check off their mandatory gear and provide them will their event packs.
Work at a checkpoint
Checkpoints are where everything happens. These are where competitors are the most excited to humans again as food and drinks are supplied plus a place where they take a load off their feet and enjoy a short rest or tend to any small aches or pains. Some of the roles at a checkpoint are:
The King Pin (Checkpoint Lead):
You are the chief of operations and you're charged to ensure the checkpoints run as smoothly and safely as possible. You'll have many competitors coming through your checkpoint and they are your priority. You'll treat them as if they were your own.
The King Maker (2IC):
You're the King Pins support and, as history shows, they are only as good as you. You're number one job is make sure everyone is happy. Some of you, and some competitors, will be out there for long periods of time so this may be harder than you think.
The Do'ers:
You are the ones who get everything done. No job is to big and none to small. With the assistance of the King Pin and the King Maker you'll work in a variety of areas from coordinating the edibles and liquids, to marshalling the competitors or check the trail is still correctly marked. Aside from tending to the competitors needs as they require you'll be keeping the checkpoint clean, tidy, well stocked and safe.
Check in Sarge:
These are the grinning face competitors will see as they come in and out of each checkpoint. Every competitor needs to check in and out of the major checkpoint. Your primary focus is to ensure all of the competitors re safe and able to continue. Some of you will also be preforming random gear checks.
The Sherpa:
During this event we will have some very small direction points that will be in remote areas of the course that can't be driven to. These check points will need to be hiked into and may require an over night stay. If you looking for a little adventure and are happy in your own company this could be the role for you.
There are many roles to fill at each checkpoint so if this is an interest to you let us know.
Living life on the trail
So you would love to be experience what Hut 2 Hut has to offer but you think the 100km is a bit of a stretch? We have plenty of roles available where you can get a taste of the trail without having to commit to the whole event. Here are a few:
Trail Markers:
A great opportunity to get out onto the trail before the event and experience some of the terrain at a more leisurely pace. This role requires people with a strong sense of direction as we don't want to send the competitors off in the wrong direction.
Trail Marshals:
These people are great pointers, directors and general motivators. Positioned at key points where its easy to make a wrong turn you could be the person who motivates the competitors to not only keep going but keep going in the right direction.
The Sweeper:
A very important person, or team, but no necessarily the most popular. This position requires you to follow after the competitors collecting course marking and signage as you go. You'll also be their to make sure as an official time clock to either motivate competitors to get to the next checkpoint before cut off.
Medical Team
All kinds of medical requirements will need to be treated in an event this long. Competitors can experience tight muscles, sore backs, chafe, blisters and swollen joint, twists, sprains and strains. There will be no shortage of variety for you. These roles will care for the wellbeing of our competitors and we have roles for novices an experienced professional alike.
Roles available:
Myotherapist/Massage Therapist:
A very important person. Your skills will help keep competitors on the trial. Plus, you'll also get to supervise the student volunteers.
Myotherapist/Massage Student:
This is exactly what you are studying for. What better place to hone your skills that on course.
Physiotherapist:
Keep the competitors going one piece of strapping at a time. You experience will be vital as the tired competitors come through. You also get to supervise the student volunteers.
Physiotherapy Student:
This is exactly what you are studying for. What better place to hone your skills that on course.
Podiatrist:
100km through the Alpine region = tired, sore and blistered feet. With your experienced hands you'll help as many people as possible get through to the finish with as little discomfort as possible. You also get to oversee the pod volunteers
Podiatry Student:
By the end of this event will you ever want to see a blister again?
Transport and logistics
Due to the natural terrain that will need to be covered we will have a real need for 4WD vehicles.
Roles available:
Logistics Support and 4WD Pro: 
These drivers will be in charge of driving around suppliers to multiple points around the course (and maybe a few mercy runs for injured competitors). While most checkpoints will be accessible by 2WD or SUVs there are some parts that have 4WD access only. Imagine how popular you will be dropping of meals for our volunteers stationed around the course. Everyone is going to be happy to see you.
FAQs
How can I let you know I'm interested?
Its simple to express your entry for this event. All you need to do is email us at renee@oscars100.com.au. From there the team will be in touch with you to confirm our details and offer you a position.
Will I have training for my role?
All important information and training will be provided. We want this event to be a success so we will ensure you have all information you need to help us achieve this
Can our group volunteer or can I bring a friend if I'm on my own.
Without a doubt. The more volunteers we have the better the event will be and the easier everyone's role will be. The more the merrier! If you want o volunteer as a group get in touch with us quickly so we can get you all volunteering in the same location. Simply fill in the application form with your details and we will be in touch with you.
What will I need to bring to my shift?
Mobile phone. A 4G mobile phone is required and we recommend your service provider is Telstra. As we are in the Alpine region there are some black spots. (Event organisers will take appropriate precautions for these areas to ensure communication is possible)
Multi-layer of clothing. The event is being help in peak Summer but it is in the Alpine region so weather conditions can change quickly. Make sure you have warm clothing available and best if you have a few layers. You can always take it off if its hot
What about gear other than clothes. Being that its summer you'll need sunscreen (we will provide at major ckeckpoints but always best to have some of your own), sun hat, umbrella, raincoat, bug spray and a raincoat. We recommend a durable pair of trail shoes as well.
Volunteer information pack. Details to be confirmed…….
Personal supplies. If you have a favourite food or snack, bring it. If you have a favourite book, bring it (at some checkpoints there could be some downtime). Don't forget a torch if you camping overnight, which if you are you'll need a tent, sleeping mat, sleeping bag and pillow. Please bring what will make you feel comfortable.
What happens if I cannot attend my shift?
This happens so please don't feel you can't tell us. If for any reason you can help out during your allocated shift please notify the Volunteers Co-ordinators ASAP. The earlier you can tell us the better positioned we will be to cover your shift.
What communications will I get in the lead up to the event?
Once the volunteers expressions of interest have come back we will begin communicating with all volunteers on a weekly basis. All volunteers will automatically subscribe to the newsletter.